Bangladesh is a leading country in immunization coverage and activity. Yet there is considerable deficit in valid dose of immunization and challenge for sustainable high level coverage, Therefore a civil society of NGOs would be working alongside the MOH& FW, EPI and MOLGRD activity. Bangladesh Breastfeeding Foundation (BBF) with the support of Global Alliance for Vaccination and Immunization (GAVI) & Catholic Relief Services (CRS) has established a Civil Society NGO Platform called 'Immunization Platform of Civil Society in Bangladesh (IPCSB)'. The objective of this platform is to strengthen the health systems of the Government of Bangladesh in achieving excellence of immunization with NGOs who are engaged in immunization work.
Strategies of IPCSB
The advocacy goal of the platform reflects the general concept of the national immunization goal. The goal of the advocacy is to "Achieve 95% immunization coverage in Dhaka City Corporation by 2020 through Civil Society Strengthening". This goal will be achieved through a series of activities undertaken by members of the Platform.
Work with EPI, MOHFW, MOLGRD, City Corporations, WHO, UNICEF, GAVI and other development partners.
CSO platform members share, co-ordinate and implement necessary work.
In an effort to achieve the overall goal of the advocacy focus, the platform outline three main objectives intended to address the key issues identified in the situational analysis.
The objectives are:
By 2016, Civil Society Platform will contribute to increasing basic knowledge and awareness on immunization from 78% to 90%
By end of 2016, service providers be fully responsive to increase valid dose from 78% to 90% in Dhaka City Corporation
By 2016, 100% of service providers in Dhaka City Corporation will be fully knowledgeable and skilled on immunization
Role of IPCSB
Co-ordination among the NGOs for immunization
Training for members on Health System Strenthening
Operations research on barriers of immunization and Health System Strenthening
Advocacy on immunization to all levels.
Work Done
Training and workshop on GAVI HSS funding
Training and workshop on advocacy strategy of CSO platform
Media communication training for improving immunization coverage in Dhaka city corporation.
Scope of Work
Provide continuous support to EPI project related to planning process, design& develop social mobilization campaigning, monitoring and evaluation etc.
Work with Government, development partners, media, NGOs, city corporations for implementing EPI activities.
Participate in regular review meeting at all level.
Strengthen immunization to achieve maximum coverage in Bangladesh
Future
The future activities of IPCSB include
Participation in long term planning in EPI program
Implementation the program in selected areas
Provision of support to EPI in any emergency situation
Participation in planning, fund raising, implementation, monitoring and evaluation process of immunization.
Our Mission

Increase immunization coverage in area of low coverage, increased effort of CSO members, mass awareness, training program for immunization service provider, research, Knowledge sharing, policy implementation and advocacy.
Our Vision
Have the highest level of immunization coverage in Bangladesh in the joint effort with the Government of Bangladesh and the Civil Society Organization (CSO) platform.
IPCSB Structure
---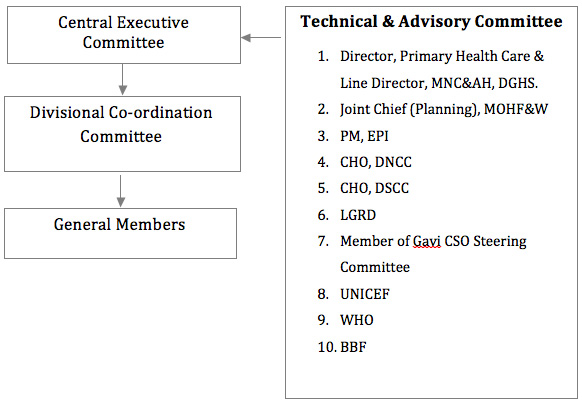 Composition and Structure of Central Executive Committee of IPCSB
Chairman (1)
Vice Chairman(2)
General Secretary (1)
Joint Secretary (2)
Treasurer (1)
Member(5)
Composition and Structure of Divisional Co-ordination Committee of IPCSB
Chairman(1)
Vice Chairman(1)
Secretary (1)
Treasurer(1)
Member(4)